Sharing all my tips & tricks for how I created a beautiful, quick & colorful Thanksgiving Table setting in under 10 minutes for FREE with pumpkins. Images included.
With Thanksgiving just a day away and overnight guests coming to stay I didn't have much time to get my Thanksgiving table setting ready. 
Quick & Colorful Thanksgiving Table Setting
*this post contains affiliate links for more information check out my disclosure page*
If you haven't started your Thanksgiving Table Setting yet there is still time to make it pretty and colorful before your guests arrive. 
Thanksgiving Table Setting with White Tablecloth & Plaid Runner
To start, I first laid down a simple white linen tablecloth & added my plaid blanket scarf as a dinning table runner to give our farmhouse table a little color. 
I will be cooking Thanksgiving dinner for 18 on Thursday so we will have 12 adults at our dining room table & 6 more at the kids table.
Pumpkins & Greenery as a Thanksgiving Table Setting Centerpiece
For our dining room table, I brought in 6 pumpkins from our fall front porch that I had originally used to decorate the front of our farmhouse with. 
Since I have started decorating for Christmas, these pumpkins will be composted next week anyway so it didn't make sense to keep them outside any longer.
I also added a few evergreen sprigs to break up the orange & also give a nod to the Christmas decorating that has started to happen. 
I added my red glass turkey as well as 2 small ball jars with small tea lights inside to our Thanksgiving Table Setting.
White China, Glassware & White Cloth Napkins for a Thanksgiving Table Setting
I followed our colorful Thanksgiving Table Setting Centerpiece with simple white china, white cloth napkins & glass water goblets. 
It's important to me to bring out my favorite dishes for the holidays to celebrate the season & my guests.
Red Maple Leaves a Free Chandelier Centerpiece Show Stopper
Lastly, I added a little more color to our brass chandelier with some colorful maple branches.
It is my hope to one day have an antique crystal chandelier but for now I try my best to hide the brass one we have. 
Inspired by how pretty our chandelier looked at Christmas  last year I traded the evergreen boughs for red Japanese maple leaves.
We are blessed to have a gorgeous Japanese maple tree in our yard that is still full of leaves every Thanksgiving.
This small fall decorating project only needs a few small branches to make it look stunning. 
Thanksgiving Table Setting Tip with Pictures
*leave this maple leaf project for last because the leaves will only stay fresh for a few hours before they start to wilt*
Thanksgiving Fireplace Mantel
Our dining room fireplace mantel also has some evergreen sprigs, candles & a small pumpkin to tie it in with the Thanksgiving table setting.
I am officially ready for our Thanksgiving guests, at least in our dining room. 
If only I could make Thanksgiving dinner for free in under 10 minutes!!!!
I want to wish you all a wonderful Thanksgiving & holiday weekend. 
I am incredibly thankful to everyone who takes time out of their busy lives to stop by our blog.
I hope this inspires you with a few Thanksgiving Table Setting Ideas!
by Tara Lehman
Don't forget to save & pin my Quick & Simple Thanksgiving Table Setting!
Check out these 10 minute DIY Holiday Projects from my Create & Share Friends!!!
Sharing my quick & colorful Thanksgiving Table setting as part of the DIY Create & Share Challenge hosted by my blogging friends Stephanie from Casa Watkins Living & Cat from Pocketful of Posies.
Thank you for checking out my 10 minute DIY Thanksgiving Table Setting be sure to check out what my friends are sharing below for more 10 min holiday DIY ideas (including Christmas)!!!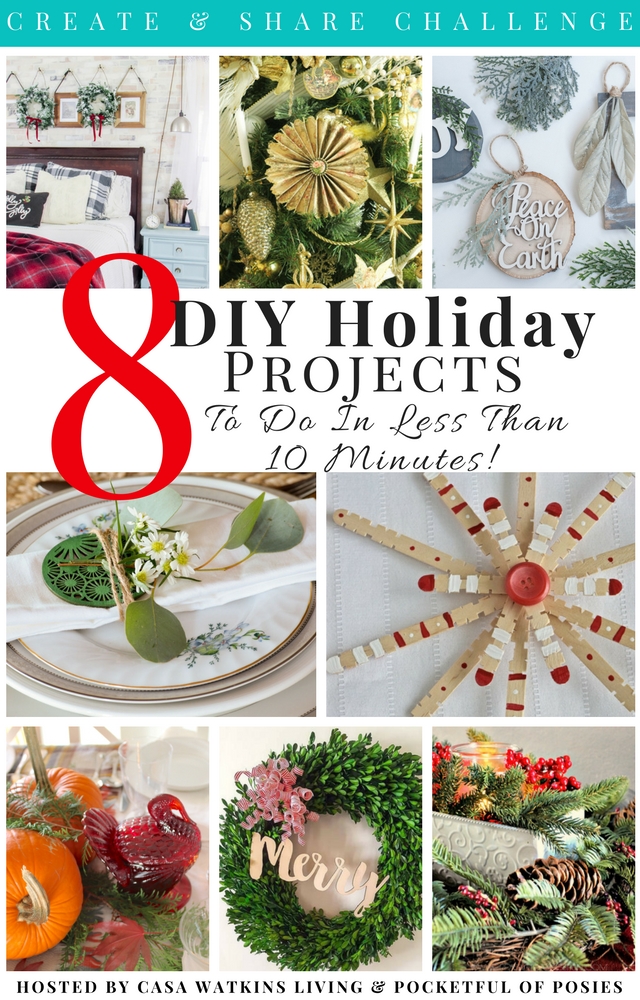 Casa Watkins Living DIY Wood Ornament Napkin Ring
Pocketful of Posies Turn Old Garland Into A New Wreath In A Flash
DIY Beautify 10 Minute Christmas Decorating Ideas
Flourish & Knot 10 minute Scandinavian Snowflakes
Creatively Homespun 5 minute DIY Holiday Candle Arrangement
Lehman Lane Quick Colorful Thanksgiving Table Setting
Kim Six Fix Victorian Paper Fan Medallion Ornaments
Vintage Romance Style 3 DIY Rustic Farmhouse Ornaments
Some More Thanksgiving Ideas You Might Enjoy
Simple Thanksgiving Tablescape